SRAMTA kids is a child centred school where kids can be 'KIDS'.
"The goal of early childhood should be to activate the child's own natural desire to learn"
Maria Montessori.

We strive to create the right environment to instill the "desire to learn."It offers a platform to explore and develop the skills needed: academic, social, physical, emotional and cultural.
Each child receives nourishing affection and attention from teachers.Every child is unique, we value the child for what he or she is. This helps boost the confidence and the self esteem, which is vital for any child.
Learning is joyous when not motivated by reward or punishment. When they're learning and playing with joy, then it's a positive experience. They develop a positive approach to learning."
Children learn to think independently and speak their mind freely.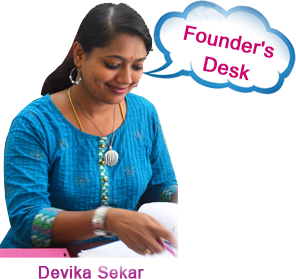 I completed my montessori training at NAMC, Canada in December 2010, since then I've kept myself busy working in Montessori schools across America. It usually surprises people when I say I'm basically a Chemical Engineer from CECRI, Karaikudi, and then the immediate question of how I got into teaching Montessori. Well, all this started when my daughetr was studying in a Montessori school, I was curious so started exploring more about the Montessori method of teaching.I was amazed to see how well the skills required for the child's development were all inbuilt in the Montessori equipments.
I personally witnessed considerable changes in my daughter and at a certain point I was awestruck to see all that she could do at 3 yrs old, which definitely motivated me to pursue Montessori. Thats when I really knew what a child is capable of and that it is upto the instructors to utilise the childs potential in a constructive way.
The idea of being able to mould a child in their very early years fascinates me and the satisfaction derived is limitless.
Ever heard of the quote "Its a beautiful thing when a career and a passion come together"..
I'm just glad it did for me.

We are an educational institution focused on early childhood development . We believe in hollistic development of your child - mental, physical and social. Our stimulating environment will allow your child experience the joy of learning - whether interacting with the montessori environment in their classroom, playing in our outdoor playarea or participating in our enrichment programs such as music, art & craft, yoga, study sessions etc.
What makes us unique ?
- Our excellent and spacious facility?
- Our experienced teachers?
- Our enrichment and holistic programs ?
- Our commitment to every child to grow mentally, physically, socially and emotionally?
We think all of the above and much more. Come by, take a look on why SRAMTA kids will inspire academic excellence and may be the best choice for your child and you.
International Curriculum
Library under a learning tree.
Trained & Experienced Montessori Professional
Authentic Montessori Time with Montessori materials
Outdoor play area.
Safe & Secure environment with CCTV cameras.
Student Teacher Ratio 1:15